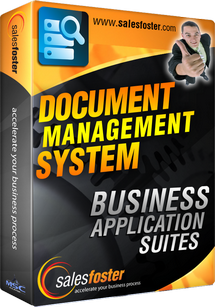 Foster Document Management System
Foster DMS is more than a hi-tech filing cabinet. You can share documents, create your own workspace with remote online access, keep a track of who saw what and when and improve regulatory compliance. Foster DMS is flexible and designed to suit your business. So flexible, it tailors the functionality to your specific business needs.
Foster DMS frees your staff from the burden of administration, allowing them to focus on the areas of your business where they can make a real difference, like looking after your customers. With Foster DMS at the heart of your business, response times are drastically cut and you'll always have the answers.
The architecture of Foster DMS software makes it a big hit with IT Managers. It integrates seamlessly with legacy systems, appearing as an icon in the toolbar and dovetailing neatly with all common packages like Sage or Goldmine, offering extended functionality and accelerated document access. With minimum disruption and rapid adoption, every employee soon feels right at home with NANO.
There's something very reassuring about Foster DMS software, especially if you're a computer user. Its intuitive interface, menu system and folder structure means you'll find everything right where it should be. Foster DMS is the only document management software to balance such broad functionality with incredible ease of use.
Foster DMS saves your organization valueable time, money and space
Unlike the paperwork on your desk or your filing cabinet, the benefits of Foster DMS just keep stacking up:
Implement good corporate governance practices and reduce the risk of non-compliance
Improve employee productivity through faster and easier information retrieval
Increase return on investment (ROI) through accelerated productivity and low cost of deployment and ownership
Leverage other technology investments by scaling Document Management to grow with your needs