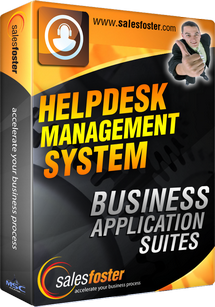 Foster HelpDesk Management
SalesFoster HelpDesk Management is a comprehensive service desk solution that helps you streamline your IT operations, increase productivity, and implement industry best practices. In one centralized location, you have all the tools you need to handle all service requests your IT department receives. From assigning tasks to administrators and resolving incidents to automating workflows and tracking through to completion, SalesFoster Help Desk equips you to handle your organization's IT requirements according to IT best practices.

Improve response time, control your IT activities, and meet your organization's requirements. Providing fast and effective support is that simple!
Automate Your Help Desk Processes to Work Faster & More Efficiently!
By automating your help desk processes, SalesFoster Help Desk helps you handle issues as quickly and efficiently as possible. You can configure parameters based on your IT department's requirements and business goals to ensure that administrators focus their energy to where it's really necessary and that every service request receives the attention it deserves.
Optimize Your Efficiency by Automating Your Help Desk
Greater Administrative and Permission Control
The Tools You Need for Better Problem Solving
Easy and Friendly for Your End Users
Integrated, Inter-Modular Approach
Customization possiblity & Great technical support