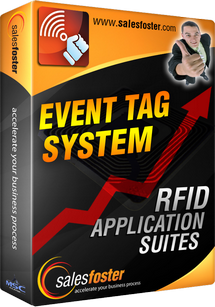 SalesFoster RFID Series:
Event Wristband Tag System
Recent developments in technology have allowed to develop a low cost and highly reliable RFID active tag solution. SalesFoster RFID tags have many advantages over conventional RFID passive tags and RFID active tags.

Get the unmatched benefits of SalesFoster Wristband System. The tags a nontransferable wristband with a securely sealed RFID tag inside to reliably store and transfer data. The data is accessed by SalesFoster applications that not just can read the tags, but able to identify the location of the tag holder effectively. Gone by the days of nametags and paper ticketing systems, with SalesFoster event wristband tag system.
Useful for public functions such as concerts, conference, meetings, close-events and many more - in anywhere you can think of, we can provide the solution. Besides, it can enhance your bottom line and provide unmatched safety, security, and convenience to your guests.
Benefits of using SalesFoster RFID Event Wristband Tag Management
Whether tracking inventory in warehouse or security access, there is a clear need for a fully automated data capture and analysis system that will help you keep track of your valuable guests and crowd control...
allow your patrons to spend their time enjoying your venue instead of waiting in line.
replacement for barcode system - the RFID tag solution eliminates "transaction friction" resulting in higher per capita spending and improved customer experience.
secured enough, the tag can stop functioning once removed from user - helping to safeguard events investment and privacy
the wristbands are designed to remain comfortable and functional when worn for days at a time. They are completely waterproof, and can withstand all normal wear and tear in active environments.
'