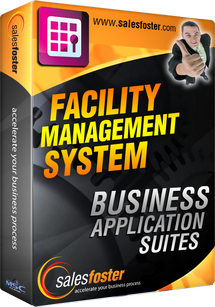 Foster Facility Manager
SalesFoster's Facility Manager product is designed to help organizations manage their facility assets on a category or subcategory basis. The product's capabilities enable management to prioritize work orders and optimize the functionality of each department or category.
SalesFoster's Facility Manager product helps organizations manage their facility budgets, control spending in real-time and optimize decision-making capabilities. Organizations that manage multiple facilities are tasked with maintaining a large number of assets in various building categories. This solution allows management to set and monitor priorities and issue work orders to ensure optimal facility function.
Organizations face barriers to the management of their assets within individual facilities
Now with Facility Manager, organizations can better manage their regulatory compliance with external authorities by improving the ways they manage systems through automation.
Prioritizing work orders
Optimizing the functionality of each department or category
Managing facility assets on a category and subcategory basis
Controlling individual facility asset maintenance within the facility
Relating asset maintenance with other assets in the facility
Customization possiblity & Great technical support