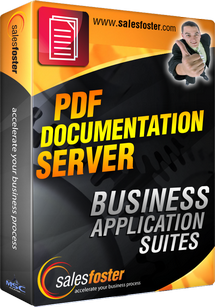 Foster PDF Server
Introducing SalesFoster's PDF Server, Malaysia's prioneer of enterprise level document management solution to offer PDF extraction and creation in one, through a powerful, flexible and simple-to-maintain server-side process.\
PDF Server saves your organization time by offering everyone the ability to create and extract their PDF files on demand, anytime. The time spent retyping, retrieving and reformatting data is eliminated. Productivity is enhanced. End users can transport PDF data into formatted Excel spreadsheets for analysis, editable Word documents for reversioning, HTML, Text and more. PDF files can be created from any printable MS Windows application and can be easily viewed and securely shared by anyone, internally or externally.
Active Enterprise-Wide eDocument Management Solution for All Industry
By automating your help desk processes, SalesFoster Help Desk helps you handle issues as quickly and efficiently as possible. You can configure parameters based on your IT department's requirements and business goals to ensure that administrators focus their energy to where it's really necessary and that every service request receives the attention it deserves.
Unlimited Users, Unlimited Conversions Per Server
A Standardized Document Management Framework
Full Suite of Benefits. One Price Per Server
Integration with other SalesFoster applications
Solution for server-based and client-based applications
Customization possiblity & Great technical support